Food can represent the rich customs and traditions of a nation, and eating a delicious local meal can create a sweet memory for the tourist. Thus, most of the people are interested in trying traditional dishes when they travel to a new destination. Among the cities in Iran, Kashan is one of the must-see Iran destinations, and as it is close to Tehran International Airport (IKA) and is the best spot for travelers of Iran classic route to spend an overnight. So, tasting Kashan traditional food can double the fun of visiting this historic city.
Here we, as locals, introduce you to the different kinds of traditional Kashan food, their ingredients, and approximate prices. 
Also, you can get more information about the most popular Iranian dishes and their approximate prices on the Persian Food and Drink page.
Kashan Food & Drinks Menu
* The prices are rough and based on a qualified dish served in a popular traditional restaurant in major cities. Usually, the prices are a little lower in casual dining restaurants and in small towns.
Koofteh Somagh
(Koofteh Aab Somagh)
In Iran, there are different kinds of meatballs (Koofteh) with various recipes in each city. Among them, Koofteh Aab Somagh or Shefteh Somagh is a famous Kashan traditional food. To prepare it, firstly, they make meatballs from the mixture of meat with chickpea flour. Afterward, they biol the meatballs with sumac. Finally, they serve the dish with bread. Due to the use of sumac in this dish, it has a sour taste. Although it is usually served with bread, it can also be ordered with rice in the restaurants.
Ingredients: Minced Meat, Chickpea Flour, Onion, Sumac

Khoresht Nokhod Alleh is Kashan Traditional Stew. This popular Kashan food is similar to Gheymeh Yazdi that is the traditional food in Yazd. Its recipe is the same as Khorest-e Gheyme, but there are some differences in their ingredients. Accordingly, to prepare this meal, they use chickpeas instead of split peas.
Ingredients: Chickpea, Tomato, Meat, Onion, Saffron, Lemon, Turmeric, Cinnamon, Rosewater (Optional)

Shefte Nokhodchi, Koofte Nokhod, or Shefte Anar is a kind of meatball dish and local food in Kashan. To prepare it, firstly, they knead minced meat with egg, chickpea flour, and a few dried herbs. Then they make meatballs from this mixture and fry them. Finally, they biol the meatballs with pomegranate paste and fried onions. This local Kashan food has a sour taste and is traditionally served with bread.
Ingredients: Minced Meat, Chickpea Flour, Onion, Pomegranate Paste, Egg, Dried Herbs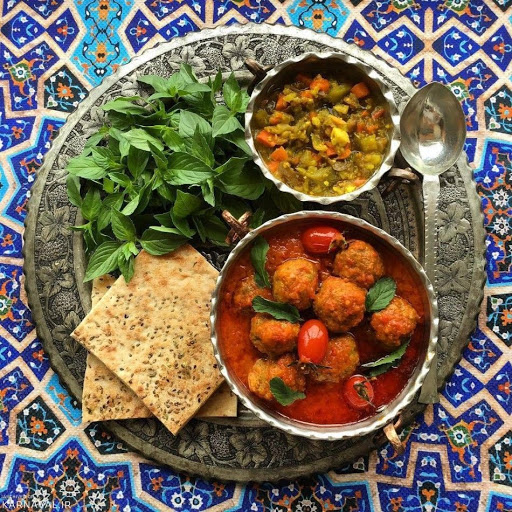 Jujui Tas Kabab, a kind of eggplant stew, is a delicious Kashan food. To prepare it, they put the sliced onions at the bottom of the pan, and add the lamb meat and the tomatoes and eggplants with the pills on the top. Finally, they add Pomegranate paste and let it cooked for a couple of hours. It can be served either with rice or bread.
Ingredients: Meat, Eggplant, Tomato, Onion, Pomegranate Paste, Turmeric

Abgoosht-e Beh
(Persian Quince Broth)
Abgoosht-e Beh is a delicious Kashan traditional dish which is a kind of "Quince broth". Since this local Kashan food contains quince and pomegranate juice, it has a sour-sweet taste. The particular flavor of this broth has made it popular among the locals and the tourists. Moreover, due to the use of quince and pomegranate in this Persian dish, it is a seasonal broth that is mostly cooked in the fall. To prepare Abgoosht-e Beh, the locals first cook the mutton with onions and the legumes. Meanwhile, they fry the sliced quinces. Finally, they add the fried quinces, and pomegranate juice to the pot and let it cook completely. However, some locals prefer to use pomegranate paste instead of its juice. Moreover, sometimes they pour some sugar into the dish to make it sweeter. Traditionally this local broth is served with bread and greens.
Ingredients: Mutton, Quince, Onion, Pomegranate Juice, Beans, Chickpeas, Turmeric, Spices, Sugar (Optional)
Chelo Dizi is a traditional Kashan food that you can find only in the restaurants of this ancient city. The word "Chelo" means brewed rice and "Dizi" is a famous Persian food that is a kind of broth served with bread. Chelo Dizi is different from the famous Dizi and contains mutton, black-eyed peas, and rice. To prepare this Kashan traditional dish, they cook mutton, onion, and black-eyed peas together. Then, they brew this mixture with rice. Finally, the locals serve the dish with local yogurt.
Ingredients: Mutton, Black-Eyed Peas, Rice, Onion, Turmeric

The Most Popular Persian Food and Drinks
An introduction to diverse kinds of Persian food and drinks, their ingredients and rough prices.