Food can represent the rich customs and traditions of a nation, and eating a delicious local meal can create a sweet memory for the tourist. Thus, most of the people are interested in trying traditional dishes when they travel to a new destination. Among the cities in Iran, Tabriz. Located in the northwest of the county is a must-see destination. So tasting Tabriz local food can double the fun of visiting this historic city. Moreover, since the locals of Tabriz are mostly Azari-speaking, delicious Turkish foods are among the traditional Tabriz food.
Here we, as locals, introduce you to the different kinds of famous dishes of Tabriz, their ingredients, and approximate prices. 
Also, you can get more information about the most popular Iranian dishes and their approximate prices on the Persian Food and Drink page.
Tabriz Food & Drinks Menu
* The prices are rough and based on a qualified dish served in a popular traditional restaurant in major cities. Usually, the prices are a little lower in casual dining restaurants and in small towns.
Koofteh Tabrizi
If you ask an Iranian "what to eat in Tabriz", he will answer "try Koofteh Tabrizi". Without a doubt, this delicious dish is the most famous Tabriz food. Interestingly, each cook has his recipe for cooking this dish. So, you can see this Tabriz traditional dish with a different look and size in various restaurants of East Azerbaijan. Besides, as this food is a national identity for Iranians, it has been registered as an intangible national heritage. The main ingredients of this food are ground meat, rice, split pea, walnuts, and egg. To prepare Koofteh Tabrizi, at first, the locals cook the split peas and rice. Then, they squish these two and mix them with ground meat, chopped onions, eggs, chickpea flour, and aromatic herbs. Afterward, they knead the mixture for a while, until it becomes sticky. Then, they prepare "the filling" for the meatballs. The filling contains walnuts, fried barberry, soaked plums, and boiled eggs. To make the meatballs, they take a little of the meat mixture and put some of the ingredients of the filling inside and form a ball. Finally, they cook the meatballs in a special sauce contains tomato paste, saffron, and aromatic herbs. Traditionally, they serve Koofteh Tabrizi with local bread, yogurt, and greens.
Ingredients: Rice, Shredded Cabbage, Ground Beef, Onion, Fresh Green Vegetables (Parsley, Chives, Persian Basil,  Tarragon, Dill, and Leek), Turmeric, Salt, Pepper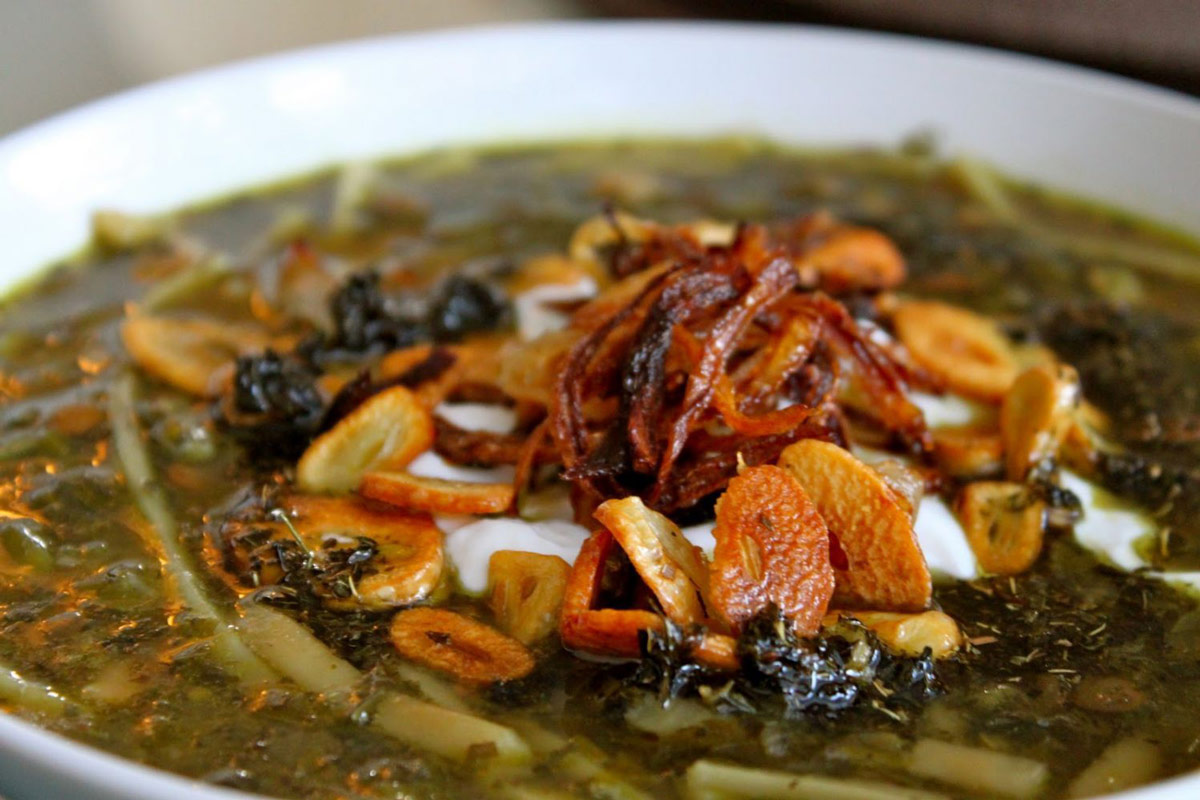 Ash-e Miveh (Fruit Potage)
You can find various Ash or soup in Tabriz, and the people of this region are professional to cook delicious soups. Among these Soups, Ash-e Miveh is a unique Tabriz food that presents a sour-sweet taste. There are different kinds of Ash-e Miveh with a slight diversity in its ingredients. But most of the locals use chickpeas, beans, plums, apricots, sour cherries, blueberries, carrots, cabbage, onions, tomato paste, leeks and parsley to make this dish. To prepare this traditional Tabriz dish, the locals first cook the legumes and rice, and meanwhile, they prepare the meatballs and put them aside. Next, they add the chopped vegetables and the meatballs to the pottage. Finally, they pour the fruits and let it cook for some minutes.
Ingredients: Ground Meat, Rice, Wheat, Chickpeas, Beans, Plums, Apricots, Sour Cherries, Blueberries, Carrots, Cabbage, Onions, Tomato Paste, Leeks, Parsley, Mint, Coriander
Kookoo Lubia Sabz
(Green Bean Frittata)
Green Bean Kookoo is one of the traditional Tabriz food that is often cooked at parties and Ramadan Iftar ceremonies. To cook this delicious Tabriz dish, the locals first chop the green beans, carrots, and potatoes, boil them, and set them aside. Then, they mix eggs with cooked vegetables, walnuts, saffron, barberry, onion, pepper, salt, and turmeric. Finally, they pour the mixture into the pan and let it fry, and when one side becomes golden, they turn it over. As it turns out, this traditional Tabriz food is suitable for vegetarians. However, some people add minced meat to this frittata.
Ingredients: Green Beans, Carrots, Potatoes, Eggs, Walnut, Saffron, Barberry, Onion, Pepper, Turmeric
Ash-e Mast (Yogurt Soup)
Ash or soup is the most famous Tabriz Food, and the people of this region are professional to cook delicious soups. Among these Soups, Ash-e Mast is the most popular one. The Persian word "Mast" means yogurt that is the main ingredient of this Tabriz traditional dish. Also, it contains Lentil, rice, meat, fresh vegetables, carrot, and potato. However, there are slight differences in the ingredients of this local Tabriz food in every house, and even some use curd instead of yogurt. To cook Ash-e Mast, at first, the locals cook the legumes and rice. Meanwhile, they prepare the meatballs, fry them, and put them aside. Next, they add potatoes, carrots, and chopped vegetables as well as the meatballs and let it cook thoroughly. Finally, they add some yogurt to the dish and serve it. Please mention that in a version of this soup, there is no meat, so it becomes a vegetarian-friendly soup.
Ingredients: Ground Meat, Yogurt, Rice, Lentil or Other Legumes, Leek, Spinach, Parsley, Coriander, Onion, potato, Carrot, Turmeric
Ash-e Omaj (Omaj Potage)
Ash-e Omaj, the traditional Tabriz soup, usually served before the main course. This nutritious soup that is mainly prepared during winters contains home-made small dough balls called Omaj. Omaj pottage is not only Tabriz local food, but also it is common in other cities such as Qom, and Hamedan. To cook Ash-e Omaj, the locals first, mix the flour with a little water, turmeric and salt and form tiny balls of dough. During the time that Omaj gets dried, they cook the lentils and onions. Next, they add the fragrant vegetables (leek, dill, spinach, coriander and basil). Finally, they add Omaj to the soup and let it cook and puff completely.
Ingredients: Lentil, Onion, Flour, Leek, Dill, Spinach, Coriander, Basil, Tumeric
Khoresht Havij (Carrot Stew)
One of the most delicious dishes of Tabriz is " Khoresht Havij" which is a kind of "Carrot Stew". As this local Tabriz food contains plums and carrots, it has sour-sweet taste. Due to the use of these fruits, it has a particular flavor and is popular among the locals and the tourists. To prepare Khoresht Havij, at first, the locals cook the veal or mutton. Meanwhile, they fry the sliced carrots and put it aside. Finally, they add the fried carrots, plum, and saffron to the meat and let it cook completely. Sometimes they add some lemon juice and sugar to the dish to make it more flavored. Traditionally this local stew is served with rice.
Ingredients: Mutton or Veal, Dried Plum, Carrot, Onion, Saffron, Lemon Juice and Sugar (Optional)
Nogha (Tabriz Nougat)
Nogha is one of the most famous and delicious Tabriz sweets. This traditional pastry is a kind of nougat resembles Torrone, the classic Italian nougat. Nogha that is a famous Tabriz souvenir consists of Mikado bread, nuts, sugar and honey. You can find different types of Nougat with vanilla, cocoa, walnut, chocolate and nutty flavours in Tabriz.
Ingredients: Honey, Sugar, Egg White, Nuts (Walnuts, Pistachio, etc.), Vanilla, Mikado bread
Ghorabieh (Qurabiya)
Ghorabieh, a soft and chewy almond macaroon, is a delicious Tabriz sweet. This pastry is cooked in different cities of Iran, including Tabriz, Qazvin and Zanjan, and also in the Republic of Azerbaijan and Turkey. Ghorabieh in Tabriz is considered as a luxury and expensive pastry. You can buy this traditional sweet as Tabriz souvenir at the bakeries located in Tabriz bazaar.
Ingredients: Almond, Pistachio, Sugar, Egg
The Most Popular Persian Food and Drinks
An introduction to diverse kinds of Persian food and drinks, their ingredients and rough prices.