Food can represent the rich customs and traditions of a nation, and eating a delicious local meal can create a memorable memory for the tourist. Thus, most of the people are interested in trying traditional dishes when they travel to a new destination. Among the cities in Iran, Yazd, the UNESCO world heritage city is one of the must-see Iran destinations. So tasting Yazd traditional food can double the fun of visiting this historic city. Moreover, Yazd food is among its most important tourist attractions. 
Here, we introduce you to Yazd traditional food and the most popular places to eat in Yazd. Also as locals, we help you to know the best restaurants in Yazd.
Also, you can get more information about the most popular Iranian dishes and their approximate prices on the Persian Food and Drink page.
Ash-e-Shooli
(Shooli Potage)
Shooli is the most famous Yazd food; in other words, it is the signature of Yazd cuisine. In fact, it is a soup served as an appetizer, especially in winters. This Yazdi traditional food has a special place on Yazidis' tables because of its simplicity and deliciousness. However, its ingredients depend on the season. On the one hand, in winter, mung beans, spinach, beetroot, dill, and sometimes turnips and squash are ingredients of this Yazdi dish.
On the other hand, they use beetroot peas and lentils in summer. Vinegar and pomegranate paste are used as a seasoning depending on the season. The exciting thing about this food is that it is a suitable dish for vegetarians.
Ingredients: Green Leaves (Parsley, Leek, Spinach, Fenugreek), Lentil, Onions, Beetroot, Dry Mint, Turmeric, Paper, Vinegar, or Pomegranate Paste.

Gheymeh Yazdi is one of Yazdi's traditional stews that you can find on the menu of all traditional Yazd restaurants. This stew is the same as Khorest-e Gheymen, but their ingredients have some differences. Accordingly, they use chickpeas instead of split peas, and in the traditional form, it is not common to use tomato paste, but today some people use it in their dishes.
Ingredients: Lamb Meat, Onions, Peas, Cinnamon, Cardamom, Turmeric

Ash-e Gandom
(Wheat Potage)
Ash-e Gandom is a local Yazd food traditionally cooked during winters and mourning of Muharram (commemoration of Imam Hossein's martyrdom). It is a kind of thick soup with different names in Yazd province's cities, such as Ash-e Halim, Jah Jah, Shab Esfandi, and Ash-e Imam Hussein. Besides, cooking this Yazd typical food has a special ceremony.
There are some cooking styles for preparing Ash-e Gandom. In some of them, they use chickpeas, beans, peeled wheat, greens, and spices, while in the other, they also use lentils and mung beans. They finally decorate it with fried garlic, onion and mint, and Kashk (a kind of sour yogurt). Although there is no meat in this traditional food recipe, nowadays, minced beef is added to it. Generally, the ingredients of this traditional Yazid soup are slightly different in each region.
Ingredients: Wheat, Beans, Chickpeas, Lentils, Mug Beans, Onion, Garlic, Dried Mint, Kashk, Greens, Herbs, Spices, Lamb Meat (Optional)
One of the most delicious dishes of Yazd is " Khoresht-e Beh Aloo." As this local Yazd food contains plum and quince fruits, it has a sour-sweet taste. The particular flavor of this stew has made it popular among the locals and tourists. Due to the use of fruits in this dish, it is a seasonal stew mostly cooked in the fall. The locals first cook the lamb meat and split peas separately to prepare this food. Then, they add spices, plum, quince, and tomato paste. Sometimes they add some sugar to make the stew sweeter. Finally, they serve the dish with rice.
Ingredients: Lamb Meat, Plum, Quince Fruit, Split Peas, Tomato Paste, Herbs, Spices, Sugar (Optional)

Abgoosht-e Tamateh Bademjan
"Tamateh" means Tomato, Bademajn means eggplant, and Abgoosht-e Tamateh Bademjan is a nutritious traditional broth of Yazd. To prepare this Yazd food, the locals first fry mutton with onions and turmeric, add the chickpeas or split peas, and let them simmer together. Then, they add the fried eggplants, tomatoes, potatoes, and spices to the pot. Finally, they pour tomato paste, cinnamon, and black cumin and decorate the dish with fried dried mint.
Ingredients: Mutton, Onion, Pepper, Turmeric, Potato, Eggplant, Tomato, Split Peas or Chickpeas, Tomato Paste, Cinnamon, Black Cumin, Dried Mint
Tas Kabab-e Shotor (Camel Meat Stew with Potatoes)
Tas Kabab-e Shotor is a unique local Yazd food that contains camel meat and potatoes. Regarding the "warm nature" of camel meat, it is cooked in the winters. To prepare this stew, the locals, at first, cook the chopped camel meat, then add potatoes, tomato paste, and spices and let it cook. Traditionally, Tas Kabab-e Shotor is served with local bread.
Ingredients: Camel Meat, Potatoes, Onions, Tomato Paste, Spices

Although tea is considered the traditional Iranian drink, Yazdi Coffee is a delicious Iranian-style coffee indigenous to the city of Yazd. This traditional Yazd drink is a witness to the cultural interactions of the locals, who have made changes in the process of making it and have created a new type of coffee. Over the centuries, this local drink has become a part of Yazd culture and customs. Furthermore, as its name implies, Yazdi Coffee, or Mourning Coffee, is mostly served in mourning and religious ceremonies. Although the documents show that the production of this coffee dates back to the Qajar period, some consider it even older than tea. To Prepare this local drink, the locals mix the coffee, water, and sugar and let it boil for 40 minutes. Then, they add a little cardamom, rose water, cinnamon, and Nabat (rock candy). Finally, they brew the coffee for 6 to 8 hours. Due to the use of a lot of sugar and rock candy in this local drink, it is very sweet.
Ingredients: Coffee, Sugar, Cardamom, Rose Water, Cinnamon, Nabat (rock candy)
Yazd Sweets
In addition to the diverse, delicious food, Yazdi people are used to cooking different kinds of sweets from old times. Insofar as Yazdi sweets (Shirini Yazdi) has become the signature of the city. Therefore, one of the joys of travelling to this city is tasting delicious local Yazdi sweets which and double the sweet memories of the trip. Join us to learn more about the local sweets in Yazd.
One of the most delicious, well-known, and popular Yazdi sweets is Qottab. According to some documents, the history of this sweet dates back to the late Qajar period. Qottab consists of two parts, the crispy outer layer, and the soft filling. To prepare Ghotab, the locals first make pastry dough with flour, oil, egg, milk, and cardamom, and meanwhile, they mix crushed almonds, crushed walnut, powdered sugar, and cardamom for the filling. Next, they put a small amount of the filling in a little dough and shape it into a small ball. Finally, they fry the pastries in oil and roll the sweets in pistachio powder, almonds, and sugar. Notably, there are other versions of Ghotab with different ingredients and shapes.
Ingredients: Flour, Oil, Egg, Milk, Sugar, Cardamom, Almond, Pistachio, Walnut

Pashmak (Persian Cotton Candy)
Pashmak, the Persian Cotton Candy, is one of the most delicious Persian sweets in Yazd. Even it is believed that cotton candy originated from Yazd, Iran. However, it is a traditional sweet in Tabriz as well. Pashmak is sweet like honey and soft like cotton, so everybody likes to taste it. To prepare this Persian sweet, the Yazdi confectioners mix sugar, flour, oil, cardamom, and some flavors in a machine where the ingredients are pulled gently to become thin threads. You can find Pashmak in different shapes and flavors; the most popular ones are plain saffron and chocolate Pashmak. Also, you can try Pashmak with the traditional Persian ice cream. By the way, do not forget to try different kinds of Pashmak or buy them as the Yazd souvenir on your visit to this city.
Ingredients: Flour, Sugar, Oil, Cardamom
Baghlava Yazdi
(Yazdi Baklava)
Baghlava Yazdi is a kind of Baklava that is a famous Iranian sweet. This Yazdi pastry is super sweet and moist with a wonderful aroma. Baghlava Yazdi consists of layers of dough and crunched nuts (pistachio, almond, and walnut) cooked together and covered with honey and syrup. This delicious Yazd sweet is flavored with cardamom and rosewater. Traditionally, it is presented in small diamond-shaped cuts and decorated with crunched pistachio.
Ingredients: Flour, Egg, Honey, Sugar, Milk, Butter, Nuts (Pistachio, Almond, and Walnut), Cardamom, Rosewater

Loz is a diamond-shaped Yazdi sweet that looks like Baghlava. There are different kinds of Loz that consist of sugar and a filling. Coconut Loz, Almond Loz, Pistachio Loz, and Saffron Loz are the most popular ones. This traditional pastry is soft and very sweet and is mainly served with Persian tea. You can buy a colorful collection of all types of Loz plus Baghlava in a small metal box as Yazd souvenir.
Ingredients: Sugar, Cardamom, Filling (Coconut, Almond, Pistachio, or Saffron), Rosewater (Optional)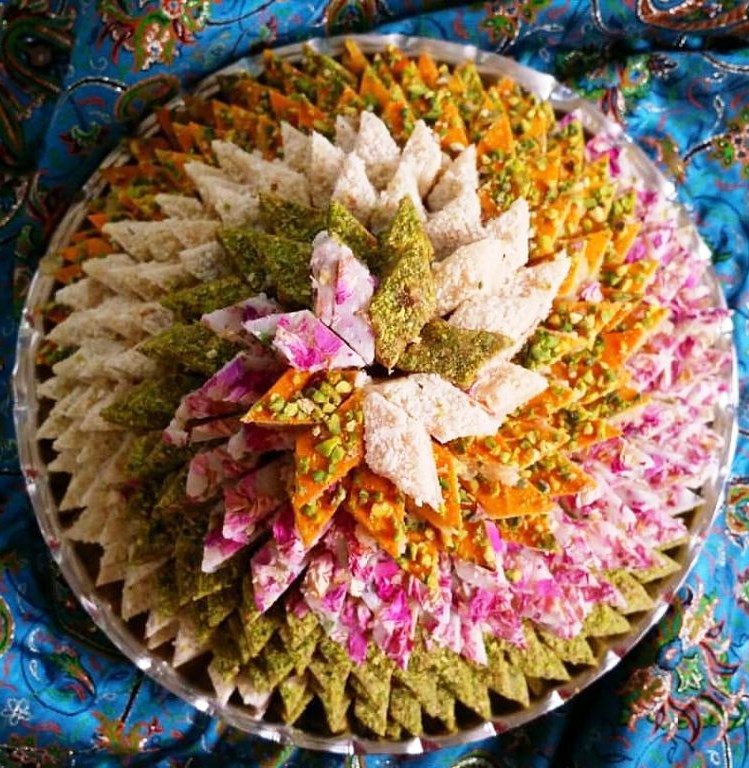 The Most Popular Persian Food and Drinks
An introduction to diverse kinds of Persian food and drinks, their ingredients and rough prices.