Top 10 Ways to Travel to Iran on A Budget
Iran Travel Cost Reduction Strategies
Cutting travel costs is important for most travelers. But lower your budget for the trip without decreasing its quality is a significant concern. Hence, here we, with the aid of our destination knowledge as a local tour operator, introduce you to the top 10 ways to travel to Iran on a budget.
Visit Iran in the Low Season
One of the best ways to cut travel costs is to visit a destination in the low season.
The low season in most parts of Iran starts from early in June and ends in late August, and again starts from the middle of October and ends in late February.
Accordingly, in most cities of Iran, the weather during winter is bitterly cold and dry and hot and dry during summer. So, if you travel to Iran during this time, you can enjoy discounted accommodation and transportation, free upgrades, good offers, and more affordable tours compared to in the high season. However, as Iran is a vast country, summer is the high season in the western parts of the country, while autumn and winter are the high seasons in the southern islands such as the Kish and Qeshm islands.
Avoid Nowruz to Reduce Iran Travel Costs
The high season in Iran starts in early March and ends in late May. So, Iran's travel cost during these months is at its highest, and most of the hotels, trains, and flights are fully booked. The situation even becomes worse during Nowruz (Persian New Year starting from March 21st till April 2nd). Because, during the Nowruz celebration, you will encounter even higher prices and more crowded cities and tourist sites.
Travel to Iran during Ramadan
Ramadan or Ramazan (in the Persian language) is the ninth month and the holy month for Muslims in the Islamic lunar calendar. All Muslims around the world, including Iranian Muslims, practice fasting and pray during this month. They fast from dawn to sunset for one month. In other words, eating and drinking in public places during the daylight is forbidden, even for foreign tourists. 
Although traveling to Iran during Ramadan seems challenging, it is one of the best ways to travel to Iran on a budget. Accordingly, you can take advantage of good offers on the accommodations and transportations during this month. Moreover, as the fasters cannot travel during Ramadan, you can enjoy the less busy roads and tourist attractions.
Go Couchsurfing or Stay in the local Houses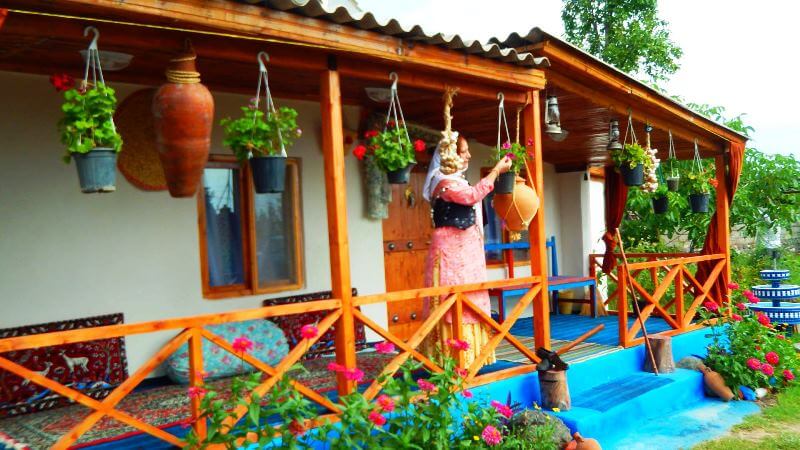 Apart from staying in dorms or budget accommodations to reduce your traveling budget in Iran, you can go CouchSurfing. In recent years, CouchSurfing has become popular in Iran, particularly in big cities like Tehran. This way, you can enjoy free accommodation while connecting with the local community. Also, you can stay in the local houses; there is a chance that Iranians invite you to their houses. In that case, it is nice to present them with a  small gift from your home country.
Moreover, in the smaller towns and villages, you can stay in the local houses or simple ecolodges in return for a small amount of money.
Take Night Trains and Buses
Iran is a vast country, so the distances between the major cities are quite long. Therefore to visit Iran on a budget, you can arrange your Iran tour to travel long distances between cities overnight. This saves you both travel time and an overnight stay at a hotel. Notably, local VIP buses in Iran are very comfortable.
On the Iran classic route, you can take a night train or bus between Shiraz and Tehran.
Be Selective of Iran Tourist Sights
You travel to Iran maybe once in your life, so we don't recommend you skip important tourist attractions to reduce your Iran travel costs. But we suggest being selective of Iran tourist sights.
There are many mosques, gardens, palaces, baths, etc., to see in Iran, that some of them are more or less similar. So, to travel to Iran on a budget, you can search on the internet and select the most worth-visiting sights.
Notably, the entrance fees of the major tourist attractions in the bigger cities are higher than the ones in the small towns.
Try Street Food on Your Iran Trip
Eating out in Iran is not expensive, but having street food is one of the best ways to reduce Iran travel costs. You can find street food, particularly in the bigger cities, where you can try Jigar Kabab (liver kebab), Felafel, small sandwiches, barbecued corn, boiled fava beans, Laboo (boiled beets), soups, etc.
The best places to try street food in Iran include Si-e-Tir St., Grand Bazaar and Piruzi St. in Tehran, Lashkarabad St. in Ahvaz, Shahrdari Square in Rasht, Meshkinfam St., Eram St. and Ghodusi Gharbi St. in Shiraz, El Goli Park, and Grand Bazaar in Tabriz, etc.
Travel to Iran on a Budget in Group
One of the most effective ways to cut Iran travel budget is traveling in a group. Accordingly, you can split some of the travel costs between your fellow travelers. For instance, you can share a car, room, tips, etc.
Note:
You can rent a village house or a flat in the larger cities and split the room.

Up to 3 passengers can share a sedan car, but more than that need to rent a van at a higher price.
Hire Iran Tour Guide Where It Is Necessary
Although we suggest hiring a tour guide while traveling to a diverse and less-known destination like Iran, you can skip it on some days to cut your Iran travel costs. For example, on the days you are on the road or going shopping or going to a special restaurant or even hanging out in the streets, you do not need to be accompanied by a guide for 8 hours. In other words, you can hire local guides when it is necessary.
Moreover, you can find information about the famous Iran tourist attractions before visiting the site.
However, a professional guide can suggest methods to lower your costs in different situations. You can even use your Iran tour guide's bargaining skills to pay a fair price for the goods, not the tourist price.
Anyway, if you travel alone in Iran, we advise being at least in touch with an Iranian travel agency, tour operator, or even an Iranian friend who can help you in the case of an emergency.
Note:
American, Canadian, and English passport holders need to be accompanied by a full-time Iranian tour guide on their whole tour.
Lower the Cost of Transportations in Iran
Fortunately, using the metro and bus in the cities is very affordable in Iran. Even Iran online taxis called Snapp and Tapsi have reasonable fares comparing the other destinations.
But, apart from the Iran online taxi, bus and metro, you can use a kind of taxi called the "shared taxi" in Iran. Shared taxis transport 4 passengers on specific routes. It means that you share the taxi with strangers, and each of you pays a portion of the taxi fare.
On the other hand, many of Iran's historical and cultural attractions, such as mosques, old bazaars, museums, palaces, traditional houses, etc., are located in the tourist contexts of cities. Besides, most of these attractions are so close together that you can take the distances between them on your feet. Just take a look at Google Maps before starting the tour and find the exact locations of nearby attractions. This way, you will not get caught in the traffic of city centers, and you will save on transportation costs.
Read the articles about Transportation in Iran
Do you know any other way to lower the budget of traveling to Iran? Please comment it!

Most Frequent Questions and Answers about
Iran Travel Budget
Where can I buy Iran souvenirs at lower prices?
The best place to buy all kinds of Iran souvenirs at lower prices is Tehran Grand Bazaar. However, you'd better check the prices before going shopping to avoid being charged with tourist prices.
Read more about: Iran souvenirs
How to lower getting Iran visa expenses?
To reduce visa expenses, get your Iran visa in advance at Iranian embassies and avoid getting an on-arrival visa (airport visa) that is more expensive.
Read about: Iran visa
Also, you can enter Iran's free trade zones such as Qeshm and Kish islands, where you can stay up to 14 days without getting an Iran visa.
Read about: Traveling to Iran visa-free
Which types of accommodation are cheaper in Iran?
Hostels are the cheapest accommodation for budget travelers in major cities. Another option is the BB guesthouses.
Also, you can stay in local houses in the small towns and villages at a very affordable price.
Finally, we suggest staying in the ecolodges in nature or remote areas that are cozy and cheap.
Read more about: Iran Hotels
Subscribe To Our Newsletter
Get updated articles about Iran trip