Persian Bread
Different Types of Persian Bread to try When You Visit Iran
The diversity of Iran is not limited to its geography, climate, or ethnic groups; you'll find that reflected in Persian bread too. Flat or puffy, tandoor-baked, or fried, bread plays a vital role in Persian cuisine. There are different types of bread in Iran that are had for breakfast or with the main meal.
Moreover, Persian bread differs from region to region due to influences from diverse geography and cultures. As a tourist in Iran, you can not miss tasting and enjoying traditional Iranian bread. Accordingly, different types of traditional Iranian breads you should try on your trip to Iran include Lavash bread, Barbari bread, Sangak bread, Taftoon bread, Naan Shirmal, etc.
8 Interesting Things about Iranian Bread that You May not Have Known
1· In Persian culture, bread is "the blessing of the table." Accordingly, Iranians are careful not to drop a piece of bread on the ground.
2· The traditional Iranian breads are usually in the form of flatbread.
3· Iranian people usually stand in long lines at the bakeries to buy traditional bread.
4· In Iran, you can watch the interesting process of baking bread in the traditional bakeries while you are waiting in the queue.
5· Iran, Azerbaijan, Kazakhstan, Kyrgyzstan, and Turkey, along with Armenia, are on the Representative List of the UNESCO Intangible Cultural Heritage of Lavash Bread.
6· Sangak, known as the national Iranian bread, is baked in a unique tandoor on a bed of small stones.
7· CNN has published the Iranian Sangak bread on the list of 50 of the world's best breads.
8· You can taste different types of bread in the villages in Iran or in nomadic tribes that you can not find in the cities' bakeries.
Consumption of Bread in Iran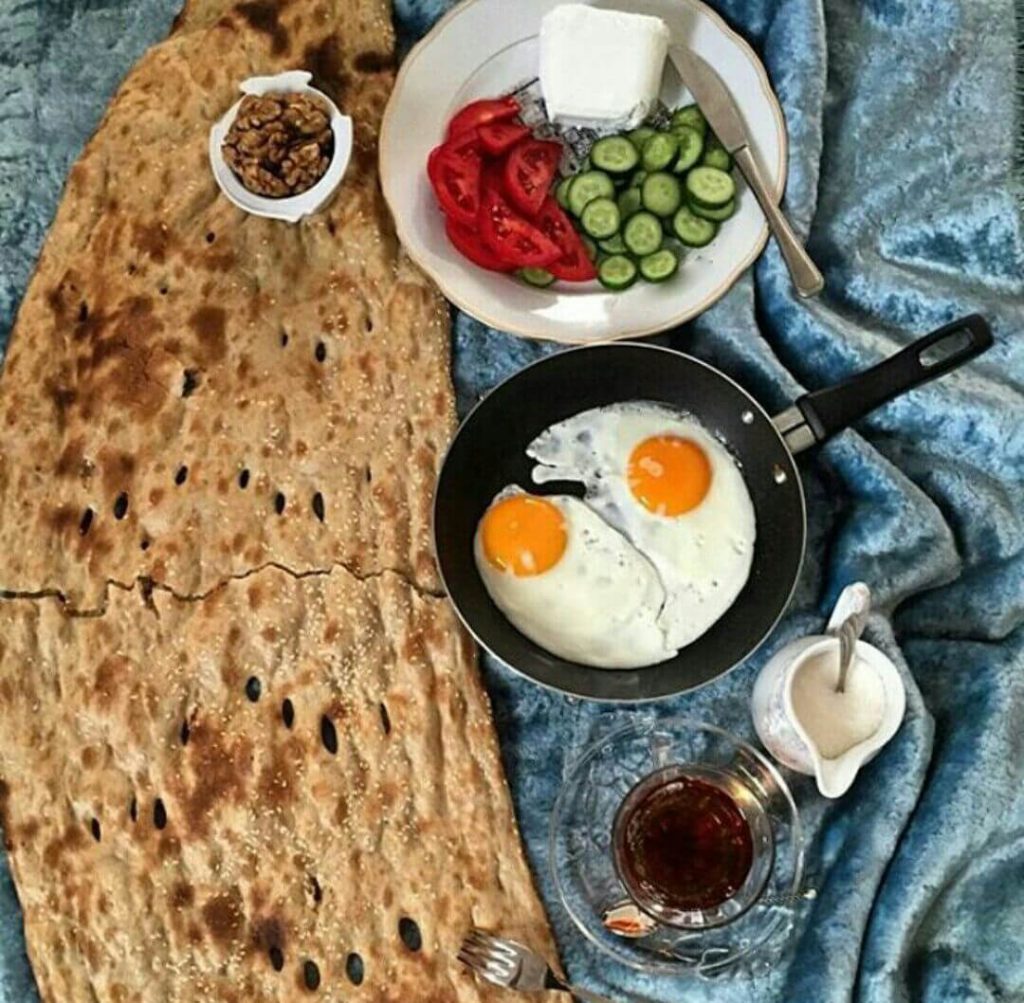 Persian Bread, or "Naan" in the Farsi language, is the most important Iranian food consumed in all Persian meals. Generally, Persian food is either eaten with rice or bread. For example, eating bread with cheese, walnut, or jam is very common for breakfast in Iran.
In our country, people generally stand in line at the bakery to buy bread. These queues are usually longer early in the morning and during the first hours of the evening. However, in some large Iran cities, there are online bakeries that deliver the bread to your place.
Moreover, in some traditional Iranian restaurants, there is a tandoor, and they serve fresh bread with your meal.
Besides, in rural areas and villages of Iran, families prepare their bread themselves. Accordingly, one of the main tasks of Iranian women in small villages and nomads is baking bread. They do all the process by hand and bake bread inside the traditional clay tandoor called "Tanoor." Furthermore, they sometimes add some ingredients like dried herbs, animal oil, etc. to make the bread tastier.
Usually, Tanoor is heated by dried woods, which gives a pleasant smell to the bread. Hence, we suggest not to miss these local breads if you visit these places on your Iran trip.
Watching the process of baking Iranian bread in the bakeries is one of the best Iran travel experiences you can not miss. We highly recommend you go to a bakery and buy some bread in person at least once on your trip to Iran. The beauty of Iranian bakeries is that you can watch all or most of the baking process while waiting in the queue. Notably, all these steps were previously done by hand. But in many cities today, modern equipment does many of these stages. But still, watching this semi-automatic process is exciting.
The process of Baking Bread in Iran Bakeries
First, they prepare the bread dough. Then someone rolls the dough into similar balls called "Chaneh." Another person smoothes the Chaneh with a rolling pin or hand. And pour sesame or other ingredients on it. He spreads it on a cushion or wooden plate, and depending on the type of oven, it attaches it to the oven wall or spreads it on a revolving plate or belt.
Another person throws the prepared bread on the customers' table. The bakers perform these repetitive works with a certain rhythm and move their bodies as if they are dancing. Hence, you can not take your eyes off this beautiful show.
Then the customer puts the bread on another table that is most of the time outside the bakery for a few minutes to cool slightly. This is so that the bread does not evaporate or knead when placed in a plastic bag or cloth.
Notably, Iranians value bread and are careful not to drop a piece of bread on the ground. If a piece of bread falls on the ground, they pick it and put it aside to avoid getting under the feet; Because bread is a symbol of blessing in life in Iran.
Finally, it is interesting that in some Iran cities, the queue of men and women in the bakeries is separate. In this case, one turn goes to a woman and another turn to a man.
Different Types of Bread in Iran
You can find diverse types of Persian bread in different regions of Iran. Here we are to introduce the kinds of Persian bread that are very popular and consumed by almost all Iranians. Also, you can find them all over Iran. However, there are also some other types of local bread in different cities and villages in Iran.
Lavash Bread (Nan-e Lavash)
Lavash Bread or Nan-e Lavash in the Persian language is a kind of flatbread that is very thin compared to other Persian bread types. It is the most common and popular bread in Iran and its neighboring countries, such as Azerbaijan, Armenia, Turkey, etc.
Interestingly, in 2014 Lavash Bread was listed as the Intangible Cultural Heritage of UNESCO of Armenia. In 2016, the countries of Iran, Azerbaijan, Turkey, Kazakhstan, and Kyrgyzstan were also added to the representatives' list.
Lavash Bread comes in round and rectangular shapes. You can easily find this kind of Iranian bread everywhere, either in the bakeries or supermarkets.
Moreover, Iranians place Lavash bread at the bottom of the rice pot and make delicious Tahdig.
Barbari Bread (Nan-e Barbari)
The word "Barbari" means "belonging to Barbar," and Barbar was an ethnic group that lived in the northeast of Iran near the 
Afghanistan borders. َThis tribe started to bake this Persian bread and then brought it to Tehran during the Qajar dynasty. Since then, Barbari bread has become one of the most popular types of bread in Iran. You can also find it in whole parts of the country in two different ways, i.e., traditional and industrial methods.
Moreover, Barbari is the thickest Iranian flatbread that is proper for breakfast or with the soups. Iranians add Poppy seeds, sesame, and wheat bran to this traditional Persian bread.
Notably, it is widely known as Persian flatbread in other countries such as Canada and the United States.
Sangak Bread (Nan-e Sangak) 
Sangak bread is a traditional Iranian bread baked on small stones and is considered Iranians' national bread. Sheikh Baha'i invented this special bread and its stone oven in the late 16th century. Now, after about 500 years, Sangak bread is still baked in its original form. However, due to the fast, modern life, this Persian bread is also cooked in industrial ovens. But, the Sangak bread baked on the bed of small stones in Sangaki Tandoor tastes different. Besides being delicious, Sangak bread has the highest quality among other Iranian bread due to whole wheat flour. Also, it goes well with different kinds of Persian food such as Abgoosht, Halim, Kash Bedemjan, etc. Besides, Sangak bread is very popular in Iran and as well as The Republic of Azerbaijan. Iranians decorate this traditional bread with poppy seeds, sesame, or some dried herbs.
Moreover, the fame of this delicious Persian bread has gone so far that CNN has published the Iranian Sangak bread in the list of 50 of the world's best bread.
Finally, on your trip to Iran, we recommend you go to one of the Sangak bread bakeries, stand in line, watch the Sangak bread baking show and enjoy the taste of fresh and warm Sangak bread.
Taftoon Bread (Nan-e Taftoon) 
Baking Tafoon bread is a round-shape Persian bread widely prepared in Iran villages, but you can find some bakeries in the cities that cook Taftoon bread. Besides, baking Taftoon bread is easier compared to other Iranian breads.
The word "Taftoon" comes from "Tafan," which means "heating." According to the Iranian national epics book, Shahnameh, Iranians have prepared Taftoon bread for centuries. This Iranian bread's traditional cooking method is baking it in a clay Tandoor called "Tanoor." This bread is also famous in India and Pakistan. Finally, to shape this bread, the baker makes some dimples in the dough with fingertips.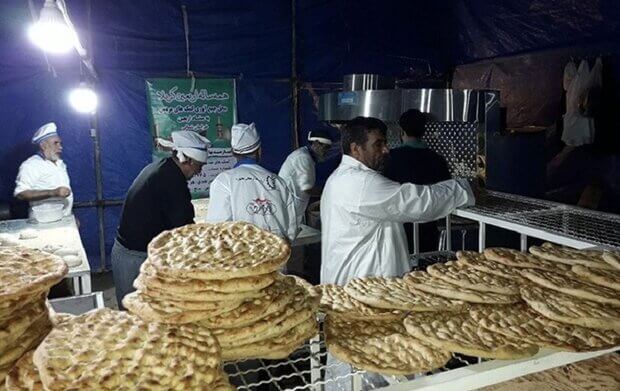 Sheermal bread (Naan Sheermal)
Sheermal bread, Shirmal bread or Naan Sheermal is a traditional saffron-flavored Iranian bread. The Persian word "sheer" means milk, and the name "Sheermal" indicates that they knead its dough with milk instead of water. Sheermal gets its pleasant aroma from Saffron, Rosewater, and cardamom essence. Moreover, this Persian bread is moderately sweet and resembles the Danish pastry. Interestingly, Sheermal is also popular in India, Pakistan, and Mongolia. You can buy Sheermal bread from the pastries and large bakeries that prepare different types of bread. Moreover, you can find this Persian bread in most of the villages in Iran.
Subscribe To Our Newsletter
Get updated articles about Iran trip