Food can represent the rich customs and traditions of a nation, and eating a delicious local meal can create a memorable memory for the tourist. Thus, most of the people are interested in trying traditional dishes when they travel to a new destination. Among the cities in Iran, Isfahan is a destination that every tourist who enters Iran will visit. So tasting Isfahan traditional food doubles the fun of visiting this historic city. Moreover, Isfahan food is among its most important tourist attractions.
Here we, as locals, introduce you to the different kinds of traditional Isfahan food, their ingredients, and approximate prices. 
Also, you can get more information about the most popular Iranian dishes and their approximate prices on the Persian Food and Drink page.
This dish is the most popular Isfahan food. Beryani, Beryan, or Beryun, as locals call, looks like a hamburger and consists of lamb meat and lungs, onions, cinnamon, pepper, and turmeric. Please note that it is totally different from "Biryani" which is an Indian mixed rice dish. To cook Isfahan Beryun Firstly, they grind the cooked lamb and mix it with different spices. Then, they fry this mixture with cinnamon on the fire in a special skimmer. Finally, They Serve Beryani with minced almond and baked lungs on Sangak bread. Also, its side dish is a delicious bowl of Beryan broth with the shredded flatbread and the Kashk sauce (Curd) on the top. There are special restaurants in Isfahan that only serve Beryan, called "Beryani". It is noteworthy that, Isfahan Beryani is a dense food, full of fat!
Ingredients: Lamb Meat and Lung, Onions, Cinnamon, Pepper, Turmeric, Kashk (Curd), Minced Almond, Other Spices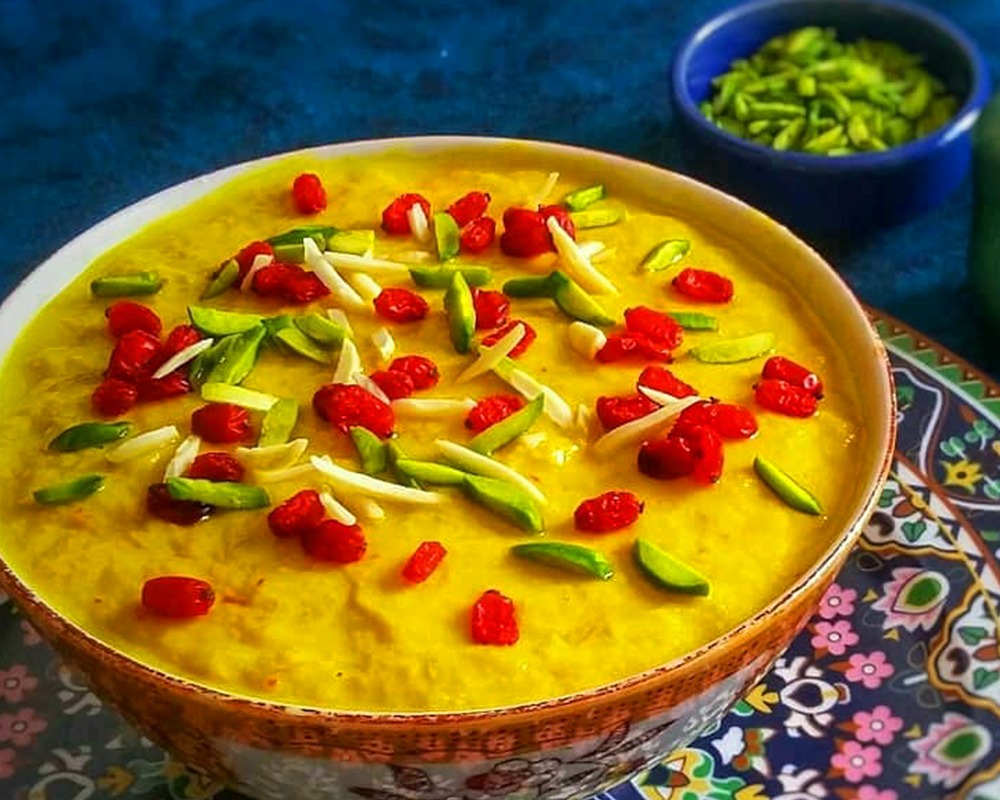 This Isfahan famous food looks like an Iranian dessert such as Shole Zard or saffron porridge, but in fact, it is tasty and heavy Isfahan food. This local food consists of a combination of lamb, yogurt, sugar, rose water, saffron, pistachio, almond, and barberry. To prepare it, first, they cook the yogurt and sugar, then add the minced meat and boil it again. Afterward, they add saffron and Rose Water to the mixture and decorate the dish with almonds, pistachios, and barberry. Finally, they put the bowl in the fridge for 24 hours.
Ingredients: Boneless Lamb, Yogurt, Salt, Sugar, Rose Water, Turmeric, Saffron, Pistachio, Almond, Barberry

Kabab Moshti, an Isfahan traditional food, is a kind of Kebab which is similar to cutlet but slightly sweet. This Isfahan local dish is a tasty barbecue while it is easy to prepare. Zardak consists of minced meat, onions, Zardak (yellow carrot), and spices. Firstly, They mix the mentioned ingredients and then fry, like cutlets or coco. Finally, they add vinegar, syrup, and saffron and boil them with Kebab. It is noteworthy that this Isfahan food is usually served with traditional bread, such as Sangak.
Ingredients: Ground Meat, Onion, Pepper, Turmeric, Yellow Carrot (Zardak), Vinegar, Syrup or Sugar, Saffron
This snack is dedicated to Isfahan and somehow strange. Gooshfil is a delicious pastry that is found alongside Zolbia and Bamiyah in Iranian pastry shops during Ramadan. They use yogurt, eggs, saffron, flour, and cardamom to make it. First, they make the paste from the mentioned ingredients and then fry it in oil. Finally, they put Gooshfil in sugar syrup and serve it with local salty-sour Doogh (yogurt drink). Also, Isfahan people eat baklava with Doogh. If you visit Isfahan, do not miss trying this interesting combination, which you cannot find anywhere else.
Ingredients: Flour, Oil, Sugar, Yogurt, Saffron, Eggs, Cardamom, Doogh (Yogurt Drink)

Gheymeh Rizeh Nokhodchi - Ghermezeh Nokhodchi
Gheymeh Rizeh Nokhodchi, also called "Kaleh Gonjeshki" is a traditional Isfahan food. This dish contains Meatballs in a delicious broth that is served with bread. To prepare this Isfahan traditional dish, the locals mix ground meat, onion, chickpea flour, dried mint, and other herbs. Then, they form the meatballs in the size of walnuts. Meanwhile, they boil onions and sliced tomatoes in water until it becomes a delicious sauce. Finally, they cook the meatballs in this sauce.
Ingredients: Ground Meat, Onion, Pepper, Turmeric, Dried Mint, Tomato, Chickpea Flour, Herbs
Goosht o Loobia (Yakhni Lubia)
"Goosh o Lubia" simply means "meat and beans", is a nutritious Isfahan traditional food that is similar to Dizi and Halim. Along with being nutritious, it has an easy recipe. To prepare this Isfahan food, the locals first fry mutton with onions and turmeric and add the white beans and let it cooked. Then, they add rice and afterward chopped leek, parsley fenugreek, and chives. Sometimes they use potatoes in Goosht o Lubia. When it is completely cooked, they drain it and mash them together. Traditionally, They serve the mashed mixture (Koobideh) with broth (Abgoosht), bread, pickles, and greens.
Ingredients: Mutton, Onion, Pepper, Turmeric, Rice, White Beans, Leek, Parsley, Fenugreek, Chives, Potato (Optional)

Mash o Ghomri (Kohlrabi and Mung Beans Pottage )
Kohlrabi (Ghomri in Persian) is a cabbage that cultivated around Isfahan. Mash o Ghomri is local Isfahan food that is a kind of postage  (Halim in Persian) and contains kohlrabi. To cook this traditional Isfahan dish, the locals first cook mutton with onions and turmeric. Meanwhile, in another pot, they cook rice and mung beans. After the meat gets half cooked, they add grate kohlrabi to the pot and let it cook. Next, they add chopped dill, fenugreek,  tarragon, savory, parsley, and mint. Then, they mix the rice and mung beans with the other ingredients and let it cook thoroughly. Finally, they squish the food to get mashed. Traditionally, Mash o Ghomry is served with flatbread,  greens, and raw onions.
Ingredients: Mutton, Onion, Rice, Kohlrabi, Mung Beans, Dill, Fenugreek, Tarragon, Savory, Parsley, Mint, Pepper, Turmeric
Meat and Lentil Haleem (Halim-e Goosht o Adas)
In Isfahan province, different kinds of Halim or Haleem are very popular. Among them, Meat and Lentil Halim (Halim-e Goosht o Adas) is a delicious Isfahan food that contains meat and lentils. To prepare this Isfahan traditional dish, the locals, first cook the mutton and then add the lentils and let it cook thoroughly. Finally, they squish Haleem and garnish the dish with fried onions, dried mint and Golpar (Heracleum persicum).
Ingredients: Lentil, Mutton, Onion, Cinnamon, Dried Mint, Golpar (Heracleum Persicum), Other Spices
Kaleh Joosh is a fast and simple Kash (curd or whey) soup and one of the most famous Persian food. Although this food is popular all around the country, it is said that it is originated from the Qashqai tribe and Isfahan Province. However, Kalejoosh is also the local food in Yazd and Khorasan Province. The main ingredients for this vegetarian soup are Kashk onion, walnut, and onion. To prepare this Isfahan traditional dish, the locals fry the onions, garlic, walnut, and dried mint, respectively. Finally, they add Kashk to the pot and let it boil for some minutes.
Ingredients: Kashk (Curd), Onion, Garlic, Walnut, Dried Mint, Turmeric
Gaz, also known as Persian Nougat or Pistachio Nougat, is a delicious Persian candy, originated from Isfahan. This traditional Persian sweet resembles Torrone, the classic Italian nougat, but it is softer. In other words, it is a rose water-scented nougat that is sticky and chewy like a marshmallow and full of crunchy pistachios or almonds. To prepare this Persian sweet, the Isfahani confectioners, mix corn syrup, egg whites, sugar and rose water and cook them in large pots. Then they add the Nuts (usually pistachio, almond or a mixture of them). Finally, they form these nougats in different shapes and pack them.
Interestingly, you can test the warm Gaz in the Isfahan's Gaz workshops. Notably, you can find the best of this candy in Isfahan, especially near Naghsh-e Jahan Square. So, do not forget to taste Gaz or buy it as the Isfahan souvenir on your visit to this city.
Ingredients: Corn Syrup, Nuts (Pistachio, Almond), Egg Whites, Sugar, Rosewater
Poolaki is a type of Persian caramelized hard sugar made mainly in Isfahan. Also, this sweet transparent, thin coin-shaped candy is a famous Isfahan souvenir. You can find it in different flavours and colours such as ginger, saffron, sesame, dried lime, coconut, and more. To prepare this Isfahan traditional sweet, the locals, boil sugar, and vinegar in water to get thick and caramelized. Then they add a kind of herb or spice such as saffron, ginger, sesame or … to this candy and finally pour it on a tray by a small spoon, to get cool and hard. Traditionally, Poolaki is served with Persian tea.
Ingredients: Sugar, Vinegar, Cardamom, Herbs, Spices
The Most Popular Persian Food and Drinks
An introduction to diverse kinds of Persian food and drinks, their ingredients and rough prices.