Iran Customs Regulations for Tourists – 2022 Rules
Iran Customs Regulations for Tourists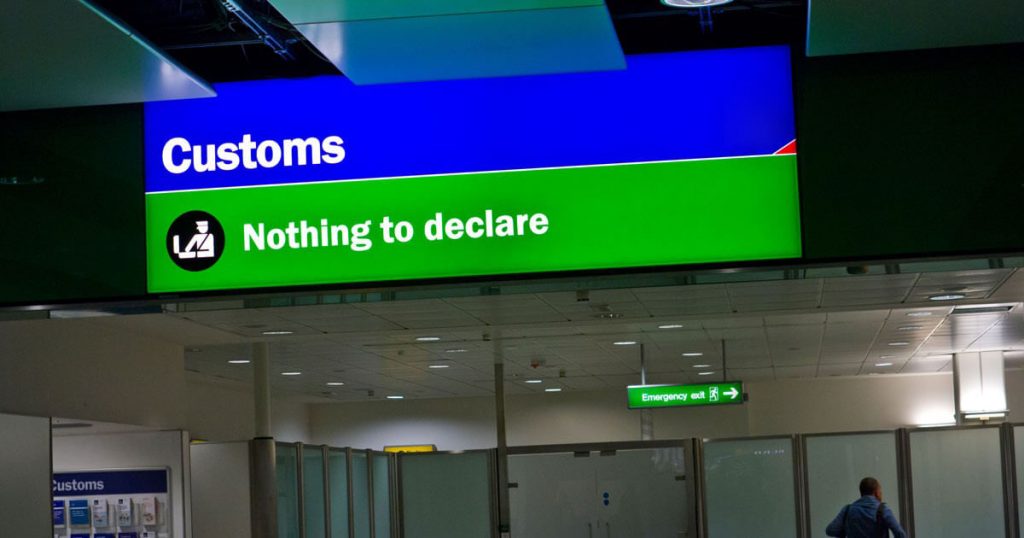 Has it ever happened that you have goods with you that has caused you trouble at the airport customs when entering or exiting another country? Goods you have to explain or fined because of them? In the following, we will present Iran customs regulations, which is better for every traveler to know before entering or exiting the country. Iran customs rules vary based on the entry or exit of the passenger.
Note: Iran customs rules and Iranian customs tariff change frequently. So, it would be best to recheck Iran customs regulations when you are to travel to Iran.
Iran Customs Regulations for Incoming Travelers (Iran Entry Regulations)
Incoming travelers or arrival travelers to Iran are those travelers who intend to enter this country. Iran customs rules and regulations for this group of passengers are as follows:
1- The used personal belongings are exempt from customs duties and commercial interest if they are not commercial.
2- Passengers entering Iran can import non-commercial goods worth up to 80 $ once a year, exempt from Iran customs duties.
3- Bringing commercial goods into Iran is subject to pass customs formalities.
4- The tourists cannot import raw materials and technical equipment for production units to Iran.
5- Also, you must bring your personal belongings as checked-in baggage with you. Otherwise, to import your belongings into Iran, you have to send them by an authorized shipping company to Iran customs, in the interval from one month before till one a month after you arrive in Iran.
1- Passengers can enter foreign currency, bank documents, and anonymous securities up to ten thousand Euros. It is necessary to declare the excess amount to Iranian customs and follow the necessary banking procedures.
2- If you bring some cash to Iran and want to take out more than 5000 euros of it on departure, you should prepare a foreign exchange entry declaration upon arrival.
3- The entry of the Iranian currency of 5 million Rials is allowed for each person.
1- You are allowed to bring your jewelry and gold, such as necklaces, rings, bracelets, watches, etc., in the number of one for each. Moreover, you can have a pair of earrings and up to six bangles with you.
2- A total of 150 grams is allowed, and any additional amounts require permission from the Central Bank.
1- You can bring your medicine for personal usage.
2- The entry of medicines into the Iran commercial market is subject to obtaining legal licenses such as the Ministry of Health permit.
1- You can have one box of cigarettes equivalent to 200 cigarettes or 50 cigars when entering Iran.
2- The acceptable amount of tobacco for each passenger is 250 grams.
1- Domestic animals and birds' entry is subject to present a health certificate from the origin country and approval of the Iran Veterinary Organization.
2- The entry of wild animals and birds is subject to submitting a certificate from the origin country's related organizations and a health certificate and approval from Iran Environmental Protection Organization.
3- Importing flowers, seedlings, and all kind of plants is subject to obtaining a phytosanitary certificate.
The import of telecommunication items such as cordless phones, wireless senders, shortwave radios, etc., is subject to obtaining a license from the Ministry of Communications and Information Technology of Iran.
Moreover, in order to enter an Unmanned aerial Vehicle (such as helicopters, quadcopters, etc. ), a legal permit must be obtained, and if the passenger carries this device with them when leaving the country, they must inform customs.
Iran Customs Regulations for Outgoing Travelers (Iran Exit Regulations)
Outgoing travelers are the passengers who depart Iran. Iran customs rules for outgoing passengers are as follows:
When you exit Iran, you can take Iranian goods with you up to the prescribed limit. Of course, these goods should not be commercial.
Note: Foreign nationals who officially work or study in Iran can take out their belongings without a license or business card at the end of their work period or graduation.
1- You can take all kinds of dried fruits and nuts with you to the extent that they are not for sale.
2- The maximum allowable amount of pistachios you can take from Iran is 10 kg per passport, and for Iranian saffron, it is 100g per passport.
3- Based on Iran customs rules, taking nuts and saffron out of Iran to Iraq, Syria, and Saudi Arabia is prohibited. This restriction does not apply to non- Iranian tourists.
Persian Carpets and kilims
1- The exit of Persian handmade carpets with the passenger is allowed up to 20 square meters.
2- There is no limit on the number of pieces of carpets, but their total area should be up to 20 square meters.
3- Besides, you can take the rugs out of Iran via air, land, and sea borders.
4- However, the exit of exquisite carpets that have historical value and cultural heritage is prohibited.
5- Based on Iran customs rules, taking Persian hand-knotted rugs to Iraq, Syria, and Saudi Arabia is forbidden.
Taking Currency Out of Iran
1- According to Iran Central Bank regulations, you can have up to 5000 euros (or equivalent in other currencies) in cash when you depart Iran.
2- Exiting more than this amount needs on arrival declaration to Iran customs and the Central Bank's authorization.
3- Cash outflows are free in the form of bank travel checks.
1- You can take out your personal jewelry up to 150 grams in the form of all kinds of gold artifacts.
2- Taking out Silver utensils and artifacts (except jewelry) up to 3kg, without gemstones is allowed, provided that these pieces are not considered historical or cultural objects.
4- For each individual, a ring, necklace, pair of earrings, and a maximum of six bracelets are permitted.
5- Gold coins cannot be taken out of the country.
You can take out up to 125 grams of caviar from Iran.
Prohibited Goods to Take into and out of Iran
As a traveler to Iran, when you want to enter or depart the country, there are items that you can not have with you, based on Iran customs regulations. These prohibited goods to take in and out of Iran are as per below:
You cannot take antiques, original artworks, manuscripts and lithographs, calligraphic pieces, miniature paintings, all kinds of precious coins, and any historical objects and cultural heritage out of Iran.

The export and import of weapons, ammunition, explosive goods, and all kinds of military equipment from/to Iran is prohibited.
Narcotics and Illegal Drugs
The export of narcotics, illegal drugs and other goods subject to general import and export bans on Iran is prohibited.
Based on the Iran rules, entry, exiting, buying, selling, and consuming Alcoholic drinks are against the law.
Illegal Publications and Media
Exit or entry of Magazines, films, photos, writings, etc., which are against the religious and national dignity of Iran, is prohibited.
As gambling is prohibited in Iran, you should not have gambling tools upon your departure or arrival in Iran.
Since pornography is prohibited in Iran, having Pornographic materials, such as magazines, tools, films, photos, etc., with you, is against the law.
Based on Iran customs rules, taking Counterfeit currencies into or out of Iran is prohibited.
Other Points about Iran Entry & Exit Formalities
1- Secretion of any goods from the sight of the customs officials is subject to punishment laws.
2- Iran customs officers can urge the passenger to fill in a customs declaration at the gate entry/exit gate to investigate the passengers' goods according to his/her declaration.
3- The discrepancy between the accompanied goods and what has been declared in the customs declaration is subject to punishment laws.
4- The import of commercial goods over 80 dollars is subject to Iran customs duties, which is calculated based on the Iranian customs tariff.
Subscribe To Our Newsletter
Get updated articles about Iran trip