Food can represent the rich customs and traditions of a nation, and eating a delicious local meal can create a memorable memory for the tourist. Thus, most of the people are interested in trying traditional dishes when they travel to a new destination. Among the cities in Iran, Shiraz is a destination that every tourist who enters Iran will visit. So, tasting different kinds of Shiraz food can double the fun of visiting this historic city. Moreover, Shiraz traditional dishes are among its most significant tourist attractions. 
Here we, as locals, introduce you to the different kinds of traditional Shiraz food, their ingredients, and approximate prices. 
Also, you can get more information about the most popular Iranian dishes and their approximate prices on the Persian Food and Drink page.
Shiraz Food and Drinks List
Kalam Polo Shirazi
Kalam Polo Shirazi is a delicious and popular traditional food in Shiraz. It consists of cabbage, minced meat, chickpea flour, and different herbs such as tarragon, dill, basil, and leek. First, we fry a mixture of onion and chopped cabbage to become soft and golden. Then we add chopped vegetables and fried meatballs to the cabbages. Finally, we mix all the ingredients with rice and brew them together. This famous Shiraz food is served with either Shirazi salad or yogurt and greens.
Ingredients: Rice, shredded cabbage, ground beef, onion, Fresh green vegetables (parsley, chives, Persian basil,  tarragon, dill, and leek), turmeric, salt, pepper
Shekar Polo
Shekar polo is the unique traditional Shirazi food served at most of the ceremonies in this city. This dish is inherently sweet and consists of sugar, rice, saffron, and almonds. Firstly, the rice is first brewed with sugar and saffron. Finally, the candied dried tangerine peel and chopped almonds are added as the toppings to the dish. The locals often serve this Shirazi food with the Khoresht-e Gheime, a kind of Persian stew.
Ingredients: Rice, sugar, saffron, almonds, sweet dried tangerine peel, salt, pepper
Shirazi Polo
(Chicken & Eggplant Tahchin)
Shirazi Polo is a kind of Tahchin and a favorite food in Shiraz. This traditional Shiraz food consists of rice, eggplant, chicken, yogurt, eggs, and cumin. To make this popular Shirazi food, they mix yogurt, rice, eggs, saffron, and other spices. Then, they pour some on the bottom of the pan and cover with chicken, barberry and eggplant and cover it with a layer of prepared rice. Shirazi polo is usually served with Shirazi salad.
Ingredients: Ingredients: Rice, eggplant, chicken, yogurt, eggs, cumin, saffron, barberry, other spices
Ghanbar Polo
(Ghambar Polo)
Ghanbar Polo is a traditional Shiraz food served at parties and ceremonies. This Shirazi food has a sour and sweet taste due to the use of pomegranate paste. Firstly, they fry meatballs with onion, walnut, and raisins. Then they add pomegranate paste to this mixture and add this to the brewed rice. Moreover, this delicious Shirazi food side dish is Shirazi salad.
Ingredients: rice, meat, walnut, raisins, onions, pomegranate paste,  turmeric, salt, pepper
Shirazi Salad
(Salad-e Shirazi)
Shirazi Salad, a tasty salad, is served with many dishes, mainly Shiraz traditional dishes. Also, Its pleasant flavor, along with the simplicity, has made it one of the most popular Iranian salads. Salad-e Shirazi consists of cucumbers, tomatoes, and red onions. Moreover, there are a variety of options for seasoning this salad. Accordingly, Iranians use verjuice, lemon juice, vinegar, or a combination of each, plus a little salt and mint for seasoning.
Ingredients: cucumbers, tomatoes, red onions, dried mint, verjuice (lemon juice or vinegar), salt, black pepper.
Aash Sabzi
One of the most delicious soups in Shiraz is Aash  Sabzi that you will remember its pleasant flavor for a long time. The locals used to eat this soup for breakfast, and they usually buy it from Tabaakhi (a kind of traditional takeaway cookery). Aash Sabzi consists of different types of green vegetables and frijoles that are slowly cooked with meat. Moreover, this traditional Shiraz food is usually served with fried onion, lemon juice, and Sangak bread.
Ingredients: Rice, Meat, Tarragon, Leek, White Beans, Lentils, Peas, Cinnamon, Black Pepper, Onion
Do Piazeh Aloo
Do Piazeh Aloo is a local Shiraz food resembles " Aloo Do Pyaza", the famous Indian dish. Also, "Aloo" in both Shirazi and Hindi languages means potato, which is the main ingredient of this food. Traditionally, Shiraz people cook potatoes and then chop them and mix with fried onions, tomatoes or tomato paste and spices. Obviously, this food is also suitable for vegetarians. However, some people add minced meat to the dish. In addition to being delicious, preparing Do Piazeh Aloo is quite simple. Therefore, it has many fans in Shiraz and other cities in Iran.
Ingredients: Potatoes, Onions, Tomatoes, Tomato paste, Spices
Khoresht Beh (Ghormeh Beh)
Persian Quince Stew
Khoresht Beh is a delicious Shiraz traditional dish which is a kind of "Quince Stew". Since this local Shiraz food contains quince, it has a sweet or sour-sweet taste. The particular flavour of this stew has made it popular among the locals and the tourists. Due to the use of quince in this Persian dish, it is a seasonal stew that is mostly cooked in fall. To prepare Khoresht Beh, the locals first cook the mutton with onions and spices and meanwhile, they fry the sliced quinces. Finally, they add the fried quinces, and saffron to the meat and let it cook thoroughly. Sometimes they pour some lemon juice and sugar to the dish to make it more flavored. Also, some cooks use split peas in this Persian food. Traditionally this local stew is served with rice.
Ingredients: Mutton, Quince, Onion, Saffron, Lemon Juice, Turmeric, Spices, Split Peas (Optional), Sugar (Optional)
Koofteh Sabzi Shirazi
Koofteh Sabzi is a delicious traditional shiraz food that is a kind of Persian Koofteh (meatball) in the soup. The main ingredients of this food are ground meat, rice, chickpeas, and a lot o green vegetables. To prepare Koofteh Sabzi, at first, the locals make a soup containing rice and green vegetables. Then they grind the soaked chickpeas, rice, and onion. Then, they knead the mixture with ground meat for 10 minutes, until it becomes sticky. Next, they prepare "the filling" for the meatballs. The filling contains walnuts, fried onions, and soaked plums or raisins. To make the meatballs, they take a little of the mixture and put some of the filling's ingredients inside it and form a ball. Finally, they cook meatballs in rice and vegetable soup.
Ingredients: Ground Meat, Vegetables (Parsley, Dill, Leeks, and Tarragon), Chickpeas, Rice, Onion, Walnuts, Soaked Plums or Raisins
Dampokhtak Shirazi
(Shirazi Dampokht)
Dampokhtak or Dampokht is a brewed mixture of rice with other ingredients. There are different types of Dampokht in Iran, and they are very popular due to their simplicity of cooking, deliciousness, and being nutritious. Dampokhtak Shirazi is one of the Shiraz traditional dishes containing lentils, cabbage, and carrots. To prepare this famous Shiraz food, the locals first fry onions, carrots, cabbage, and greens. Then, they add the lentils and let them cook. Finally, they pour the rice into the pot and brew them all together. Note that since this Shirazi food does not contain meat, it is a good option for vegetarians.
Ingredients: Rice, Carrot, Lentils, Cabbage, Onion,  Greens (Dill, Basil, Tarragon and Parsley), Turmeric, Pepper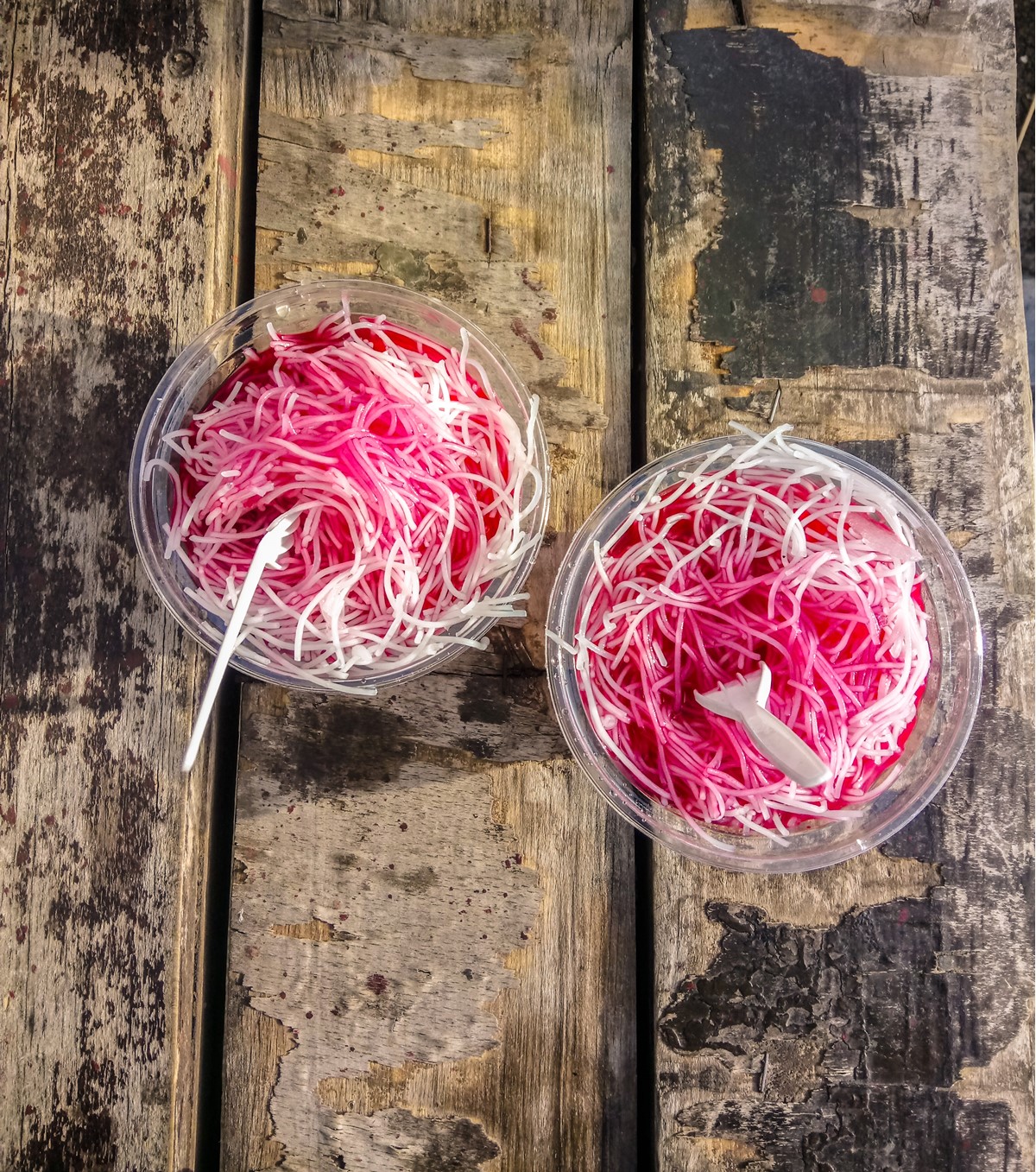 Faloodeh Shirazi
Faloodeh is a Persian frozen dessert that origins from the city of Shiraz. This ancient desert is a combination of rice noodles, sugar and rosewater. Traditionally, Iranians add lemon juice or sour cherry syrup to Faloodeh to make it more flavoured. You can buy the best of this Persian dessert from the shops located behind the Karim khan Citadel. Sometimes Faloodeh is served along with traditional ice cream. Ingredients: Rice Noodles, Sugar, Rosewater, Lemon Juice or Sour Cherry Syrup
Rob Polo
This delicious Shiraz food is the rice mixed with the pomegranate paste (Rob-e Anar), raisins, walnuts, fried onions and sugar that is traditionally served with chicken or lamb.  To prepare this traditional Shirazi dish, the locals first boil and the rice. At the meantime, they fry the chopped onions, with raisins,  and walnuts. Then they add the pomegranate paste and a little sugar to the pot. Then, they pour the rice and the other ingredients layer by layer in a pot and brew them all.  Finally, this local dish is decorated with saffron and lamb or chicken.
Ingredients: Rice, Pomegranate Paste (Rob-e Anar), Raisins, Walnuts, Onions, Saffron
Loobia Polo Shirazi
(Shevid Loobia)
Loobia Polo Shirazi is different from what is famous as Loobia Polo in other Iran cities that contain green beans. This famous Shiraz food is rice mixed with the black-eyed bean and fresh dill traditionally served with sheep neck meat or saffron chicken. To prepare this traditional Shiraz dish, the locals first cook the beans, and in the meantime, they chop the fresh dill. They then boil the rice, drain its water, and pour dill and beans layer by layer on the rice and brew them all. Finally, this Shirazi food is decorated with saffron.
Ingredients: Rice, Black-eyed Bean, Fresh Dill, Saffron
Ash-e Anar
(Pomegranate soup)
Ash-e Anar, or the pomegranate soup, is a traditional Shiraz food, usually served in Yalda night (the longest night of the year at the end of Autumn). However, Ash-e Anar is also a local cuisine in other cities such as Yazd and Tabriz. As this traditional dish contains Pomegranate juice, it has a sour-sweet taste. To prepare Ash-e Anar, the locals first cook the minced meat with onion and spices. Next, they add the split peas, rice and the chopped vegetables respectively. Finally, they pour the pomegranate juice in the pot and let it cook until it becomes a thick soup.
Ingredients: Pomegranate Juice, Minced Meat, Split Peas, Rice, Vegetables (Leek, Parsley, Coriander, Dill and Spinach), Onion, Turmeric, Spices
Masghati
Masghati is one of the most popular Persian sweets has originated from Fars Province and Shiraz City. This delicious pastry is a kind of pudding consists of starch, oil, sugar, nuts and aromatic ingredients. Masghati is cooked in different types and flavors. Accordingly, the one which is produced in Lar (a city in Fars Province) is called "Masghati Lari" that is sweeter than the Shirazi one. Or, when it is served along with cookie (Koloocheh), it is called "Koloocheh Masghati".
Ingredients: Starch, Cardamom, Sugar, Saffron, Oil, Pistachios, Almonds, Rosewater
Shiraz Food & Drinks Menu
* The prices are rough and based on a qualified dish served in a popular traditional restaurant in major cities. Usually, the prices are a little lower in casual dining restaurants and in small towns.
The Most Popular Persian Food and Drinks
An introduction to diverse kinds of Persian food and drinks, their ingredients and rough prices.